Archives For Silicon Valley
This is a beautiful and powerful statement what Apple is trying to do.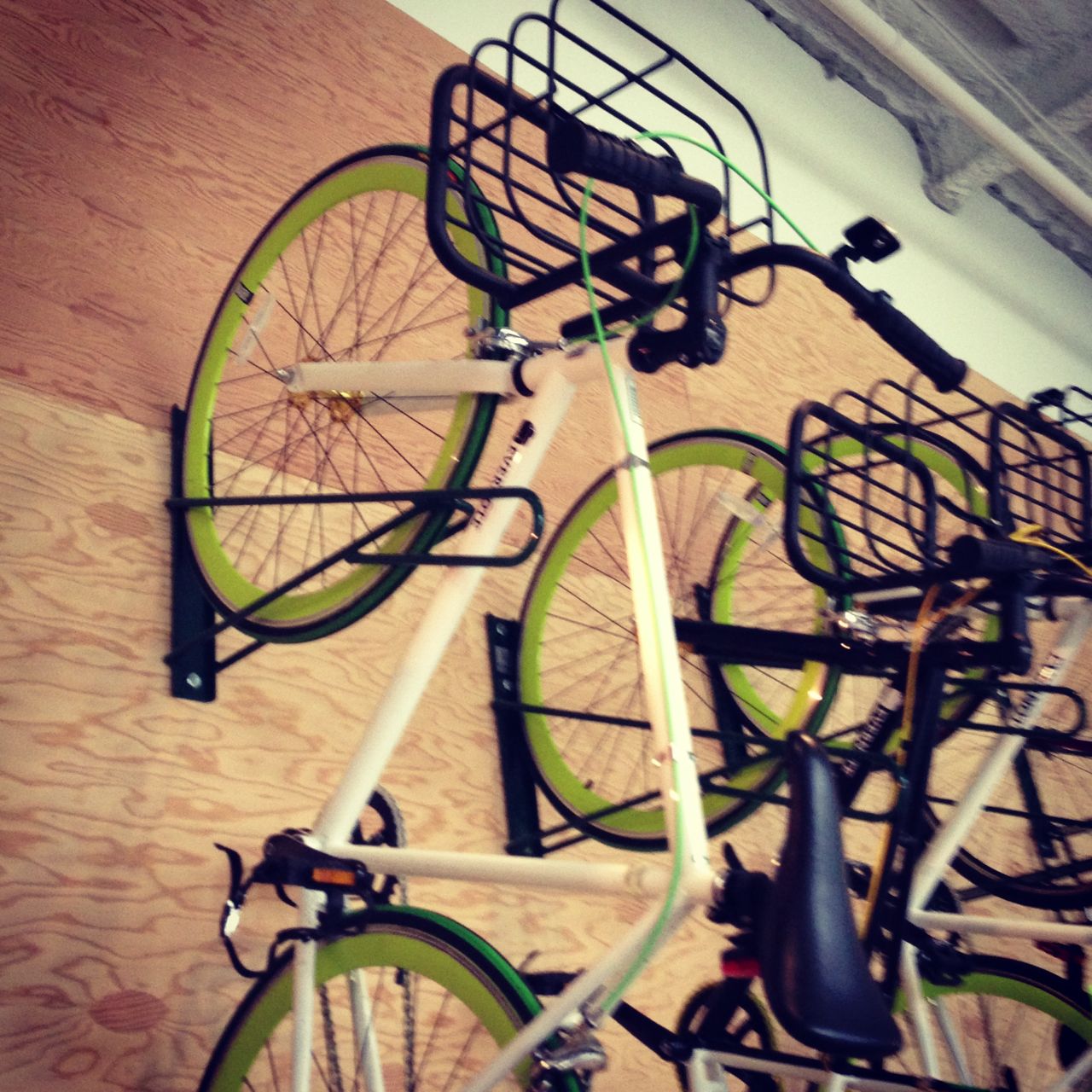 Recently the FT took a critical look at what apparently is being derided as "innovation tourism": these organized tours of company executives spending a week in Silicon Valley and hoping to bring something useful back home.
I plead guilty: Working for a media company mostly stuck in the analog world? Check. Staying for just a short week and expecting some sort of enlightenment? Check. Hitting the hard wall of reality when I got back? Check…
Still my trip to the Silicon Valley this March was enlightening, like taking a glimpse at a not so distant future. Last time I have been in the area was in 2008: Apple had not released a way to develop apps for the iPhone yet, the iPad was two years away, Android smartphones were being tested in some secret Google lab and Twitter hadn't really gone mainstream yet.
A lot has changed since! The evening I arrived, I took three cabs and two of them took my credit card with a Square-dongle attached to their smartphone. I communicated with the group I was about to meet through Twitter. Anything I wanted to find, was a tap away on my smartphone: the way to my Airbnb accomodation, great restaurants in the area with many and actually helpful reviews and finding a cab where none was around with uber.
In Switzerland I'm an avid foursquare-user, just for the fun of it. But have I ever had an actual benefit from giving my location in Switzerland to some random startup company? Not really. In the Bay Area foursquare actually works as it's supposed to: there are specials in many cafés and a department store even asks you how you enjoyed it a day after you shopped there (a little bit creepy, I agree – but then again: I decided to check in…).
you need to think about the short term because the long term implications of the digital and mobile disruption are at most a gut feeling
How is all of this relevant to my employer? Will we launch our own social-mobile-local network? No way. The most relevant and also the hardest part to bring back home is the mindset:
You don't have to figure out everything at the start. It's more important to just start and figure out the next step as you go – hard to implement within an organization that requires business plans that have to hold true all the way to Judgement Day.
In Europe and especially in Switzerland everything is built to last forever. But maybe it's ok to build a product or even a business for the short term. Definitely that's the way digital businesses work: you need to think about the short term because the long term implications are at most a feeling. Nobody knows for example how the digital disruption is going to play out for media businesses, but if we don't try, we'll never find out.
Personal freedom seems to be much more important and respected in Silicon Valley. Maybe this is why some companies go way out of the usual ways to create fancy offices with sofas, bean bags, great cafeterias, and so on: everybody should be able to work the way they like, use the tools they are most efficient with and divide their workday in the way that suits them – as long as they deliver.
Technology and design are at the core of the most successful businesses coming from Silicon Valley. Only after applying some design thinking did Airbnb turn into the success it is today and only with technology being the other driving force in product design, can you create a truly great online business.
This Silicon Valley reality is to a large extent theory in most corporate environments. So how can we bring about change? Those might be some steps to create more of a startup or Valley-feeling even in the most rusty corporate environment:
You think you have a better way of doing a certain task or an idea about developing a new business within your corporation? Start doing it at a small scale, don't ask for permission. If it works, great. Show it to others and ask for help and funding to develop it further. If it doesn't work, you'll figure it out soon enough and you won't have done any harm. Not trying would probably be worse.
Don't build everything for eternity. Start with a hack and refine it at the next iteration.
Evangelize about how important design and user experience is for any business. Make your management understand that many of the successful businesses are successful because they think about the user first. Don't be intimidated by legacy IT systems that apparently ask for some user interfaces that are impossible to understand by mere mortals (think: checkout processes, forms that need to be filled out, etc.).
Let people use the tools they feel most comfortable with. This probably means opening up IT: allow for "bring your own device" and for using cloud apps like Dropbox, Evernote (they even have a business product) and other online collaboration tools. Employees will be more efficient and creative and the IT department can focus on core infrastructure, managing the risks of 3rd party applications like the above and training people to make the best and most secure use of them.
But most of all: start taking risks and reward success as well as failure, if failure means trying something new and learning from it. Be more daring, get out of your comfort zone and build something new instead of finding all the reasons why your idea won't work anyway. Don't listen to the naysayers, go out and do. This is what we can learn from startups all over the world and especially from the Valley: go out and build something new – not trying is the worst failure of all.
About the term "curation":
when I talk to journalists I always have to be like, 'Actually, curation – it's really what you guys have always done.' It's taking a lot of information, pulling out the relevant parts of it, giving context, and telling a story.
About how traditional media companies first (sometimes still) reacted to the Internet:
it was clearly disrupting newspapers who didn't seem to know how to deal with it, or grasping onto the old world and hoping all this Internet stuff would go away.
Great guy, go read the interview!
Big data, small data, personal data, data infrastructure, data here, data there: I generally hate buzz word bingo. But for a change, I actually believe in the impact of data and clearly we have more data at our disposal than ever before. Question is: how can we use it in new ways to create new businesses? We looked for some answers at The Hive chatting with T.M. Ravi.
According to Ravi all companies and all parts of a company will be transformed by the use of data. What we see today is just the first step for building data driven businesses: companies like Google, Facebook, Twitter or LinkedIn mostly just built a powerful infrastructure to collect data in the digital space. Actually these companies have built almost addictive platforms to let us, its users, give them all the data they might dream of. The next step however is how we collect and use data from the analog world. Google is doing so with StreetView, but think about pretty much any object being connected to the Internet and collecting data or being a data object in itself. All any company then needs to master is processing data and sucking the value out that lies in it.
Wining and dining the advertisers in the old Mad Men way won't do it: Embrace change and new technologies like real time bidding, behavioral targeting and performance marketing – we are just at the beginning of the data revolution.
In a field nearer to my home turf this is already having a huge impact: online advertising. This industry is totally driven by data today and the value lies in targeting and personalization of advertising. For example during a real time bidding process on an ad impression the machines involved can estimate how much to bid by using personal or behavioral data about the user. If you don't use this technology, you're being out-bid by the smarter machine – or, from the publisher's point of view, you won't be able to get the best price for your ad inventory, if you don't provide data about your users.
That is a huge challenge to our traditional business of selling high-CPM brand advertising. In the words of Ravi: "brand advertising is getting squeezed by performance advertising, because performance can be measured very well." And what do marketing executives love? A measurable ROI in terms of sales and not some fuzzy brand awareness or other rather soft measure.
What to do? Wining and dining the advertisers in the Mad Men way won't do it: Embrace change and new technologies like real time bidding, behavioral targeting and performance marketing – we are just at the beginning of the data revolution.
— Still digesting insights from my Silicon Valley trip… This one is related to this post (in german).
On march 2nd 2013 Evernote was the victim of a security breach on their servers. For a service that holds so much private information about its users, actually also about me, this could be life-threatening incident. As such many a company would prefer to not talk about it. Especially if, as it was the case with the Evernote hack attack, no data and payment information seemed to have been accessed, changed or deleted.
Andrew Sinkov, VP of Marketing at Evernote, about the security breach:
"That sucked! What you do about it, is to be as transparent as possible as quickly as possible."
Not so with Evernote: they had a plan in place for such an incident and the guiding principle was to keep absolute transparency about what had happened and to take any possible action in order to protect the users' data. So they addressed all their users in an mass emailing, informed all major media outlets and implemented a system-wide password reset.
At our visit at the Evernote HQ the topic of the hacking attack was no taboo at all. Andrew Sinkov, Evernote's VP of Marketing, was very open about it: "That sucked! What you do about it, is to be as transparent as possible as quickly as possible." Ronda Scott, responsible for PR & communication, explained us that Evernote received a lot of positive reactions to how they handled the security breach. According to her this is how Phil Libin, Evernote's CEO and founder, envisions the company: always be open and transparent and do the right thing.
For a service that should help its customers expand their memory by remembering everything, trust is crucial. But nothing kills trust faster than not being transparent – Evernote is on the right track here, let's hope they keep it up and succeed in building "a 100 year company".
In my recent visit to the Silicon Valley we visited some of the best known internet brands. Before heading over to the West Coast, I was obviously excited about visiting the Twitters and Facebooks of this world. In hindsight those were not the most insightful visits: Youtube was a software engineering ghost town with everybody silently hacking on, Facebook resembled an oversized kindergarden with 24/7 services and supervision and Twitter shared little news beyond what one can learn when reading up on them.
Talking to founders and understanding their way of thinking and vision is the only way to observe what happens at the cutting edge of innovation
Contrast this with one of the highlights: visiting storify.com. Burt Herman and his team have realized the disruption social media brings to journalism. They went out and built a tool that leverages social media as an additional source. Additionally they want the journalists to do what they've always done and what seems more and more important: curating. How should mere mortals stay on top of the news and non-news that we are exposed to? How should we be able to prioritize what is happening in all the channels available today? Storify has a bold vision: change how stories are being told.
Talking with Burt Herman – one of the co-founders of storify – you could feel the many hours he and his team have been thinking about every feature of the tool and how to make it as simple as possible to use. You could feel how well they understand the disruption social media is to today's journalism and you could feel the passion they have for journalism and new ways of story-telling.
Not surprisingly the backend software engineer happy with solving really hard coding problems in the core of Facebook's code or the marketer trying to bring the magic of Twitter to ever more countries around the world have less to tell. Talking to founders and understanding their way of thinking and vision is the only way to observe what happens at the cutting edge of innovation.
So I arrived to San Francisco on Sunday after a seemingly never ending flight. After the welcome dinner we now get into the real deal. Here you find the schedule for the week.
Monday, March 18th 2013
First Day of the Silicon Valley Study Tour already full with highlights:

Tuesday, March 19th 2013
On the second day we're heading further south for the first time: Palo Alto including a walking tour at Stanford University is on the plan
Wednesday, March 20th 2013
Thursday, March 21th 2013
Friday, March 22th 2013